Doctor and Owner
Dr. Ethan grew up in the small town of Dassel, Minnesota which is north of Mankato. Growing up, Dr. Ethan was very active being a three sport athlete and always knew that he wanted to be in a profession that dealt with the human body. He first was introduced to chiropractic after a sports injury. After visiting the local chiropractor, Dr. Ethan knew this was the exact profession he was looking for.
After completion of high school, Dr. Ethan moved down to Mankato to attend Minnesota State University- Mankato. He obtained his Bachelors of Science in Exercise Science and fell in love with everything that Mankato had to offer. He and Hannah then moved to Bloomington, Minnesota where he attended Northwestern Health Sciences University for Chiropractic. It was at Northwestern where he learned about the amazing power of the body to heal itself from the inside out without the use of drugs or surgery. Dr. Ethan feels beyond grateful for the opportunity to serve Mankato and surrounding areas through Neurologically-based Chiropractic care.
When Dr. Ethan is not in the office he loves to spend time out in nature. He enjoys hunting, hiking, being on the water and spending time with family and friends.
Office Manager and Owner
Hannah grew up in Dassel MN. It was in this small town that she met Dr. Ethan and they became high school sweethearts. She attended Minnesota State University, Mankato for undergrad and pursued a degree in Child Development and Family Studies. Following the completion of her degree she worked as a Family Educator for Scott, Carver and Dakota Counties. She has a passion for serving others, and is so excited to continue that passion at TOV Chiropractic.
Hannah was introduced to chiropractic as a small child and always sought out chiropractic care as a first resort. She has seen great results being under Chiropractic care. Growing up, Hannah experienced many digestive issues on a regular basis, which found her seeking answers with no relief. Through neurologically based chiropractic care, she has been able to improve the function of her immune and digestive systems, and she no longer suffers!
Hannah is the co-owner and office manager at TOV Chiropractic. She is so excited to be back in the Mankato area and looks forward to serving the community through neurologically based Chiropractic care. When Hannah is not in the office she enjoys spending time with family, being outside, and a good cup of coffee.
Team Member
Originally from New London MN, Andrea moved to Mankato after graduating high school. Entering into the caregiving realm, she provided services for the elderly in Mankato and surrounding areas. Eventually entering a more clinical setting with her main focus being medication administration, she knew she wanted to serve people, but in a healthier and more positive way. That is when she found TOV Chiropractic.
Andrea had been introduced to chiropractic as a teen dealing with sports injuries, but only visited a couple of times. It wasn't until meeting Dr. Ethan and Hannah, and beginning work at TOV did she truly understand what chiropractic can do. Andrea has even found relief from some long term symptoms without the use of medication.
A true believer in the ability of the body to heal itself from the inside-out, Andrea looks forward to continuing to provide knowledge and care in a loving, happy, and positive setting. In her free time, Andrea enjoys gardening, studying herbal medicine, and spending time with loved ones.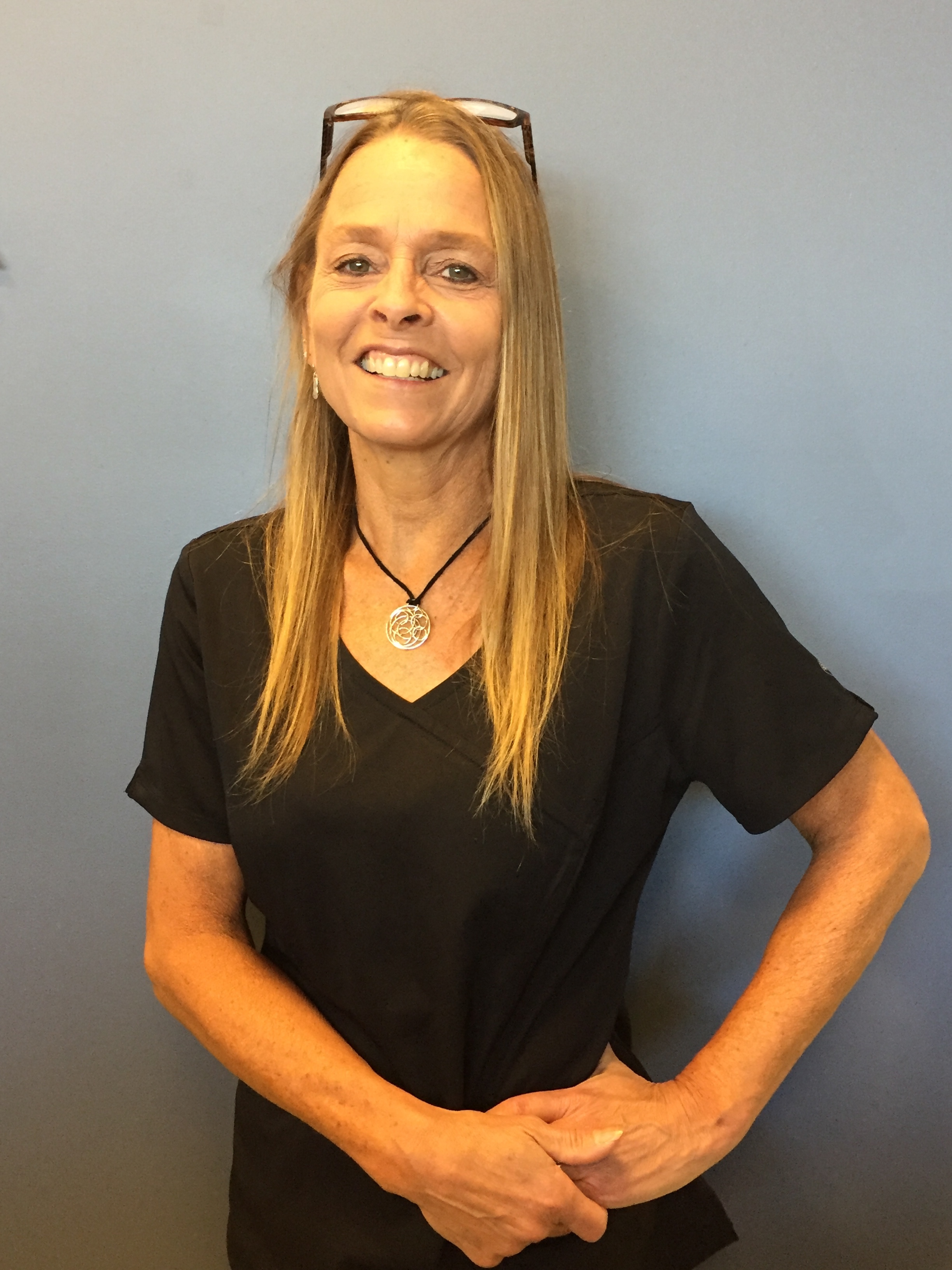 Team Member
Pam grew up in Moorhead MN, and moved to Mankato where she attended Minnesota State University, Mankato. She obtained her Bachelor of Science degree in Corporate and Community Fitness and Recreation.
She worked at Immanuel St. Joseph Hospital, now Mayo Health Systems, in cardiac rehabilitation, employee health, occupational health resources and community health programming. Some of her duties included developing, coordinating, and implementing various wellness and fitness programs for patients, staff and worksites. From there she went into business with Health Solutions working to provide worksite health promotions programs throughout the U.S.
Pam loves the outdoors where she can be found, through all seasons. She enjoys running, hiking, kayaking, skiing and snowshoeing. It is in nature where Pam can reflect and find peace in the beauty of nature. She also loves the arts and spending time with friends and family.